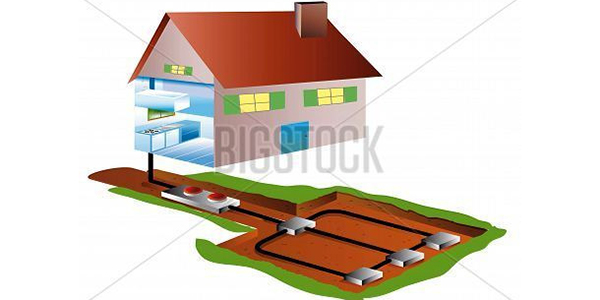 Geothermal heating harnesses the heat from the Earth's center and utilizes it to heat and cool your home – a very eco-friendly way to save the environment and your pocket book.
Whether you are building a new home or upgrading your existing home, if you are looking to save money and the environment, then a geothermal system is the way to go.
Do you know that you have a readily available energy source right in your own backyard? That's right, by harnessing the energy in your own backyard, you can heat and cool your home for far less than that of your neighbor who is utilizing the conventional heating and cooling means.
According to the Department of Energy, the average family in the United States spends over $2,200.00 a year on their utilities. Unfortunately, a large portion of that energy gets wasted. We all know that energy costs keep rising but with the installation of a geothermal system, you can realize savings of up to 70% on your heating, cooling, and hot water. According to The Department of Energy, geothermal systems are the most environmentally friendly way to heat and cool your home.
Geothermal systems provide year round heating and cooling comfort with a precise distribution of air unlike those "hot blasts" associated with the traditional gas/oil furnaces.
Not only will you be able to reap the savings of heating and cooling your home on a daily basis, the tax credits that are available make this type of installation really affordable.
Those who install geothermal systems can take advantage of the tax credits that are available through the Energy Improvement and Extension Act of 2008 (H.R. 1424). The H.R. 1424 offers a onetime tax credit of 30% of the investment for homeowners who install residential ground loop or ground water geothermal systems. These tax credits are available until December 31, 2016, certain restrictions apply. Call us at 570-874-3927 today!